FLOWRITE SL SERIES FILTER
HOUSING
Flowrite distribute a complete multi
cartridge filter housing range the SL range, which caters for higher flow rate
requirements starting from a 6 cartridge configurations up to 180.
Options
include 304L or 316L stainless steel with swing bolt closure. The units are
fabricated to the requirements of the client.
Inlet and
outlet configurations will depend on flowrate for the required application
Benefits
Multiple Cartridges for increased filtration
Designed for industrial and commercial
filtration needs
Heavy duty construction for durability, 304SS
standard with 316SS or Mild Steel options available.
Pipe fittings readily accessible for easy
installation
Knife edge seal at both cartridge ends to
eliminate by-pass
Standard housings accept double-open-end
cartridges
Optionally accepts 222 or 226 cartridge variations
The SL
housings are available as coded vessels or non-coded. All vessels are
manufactured under strict quality control procedures. The Flowrite SL range
covers cartridge lengths from 10" to 40" units.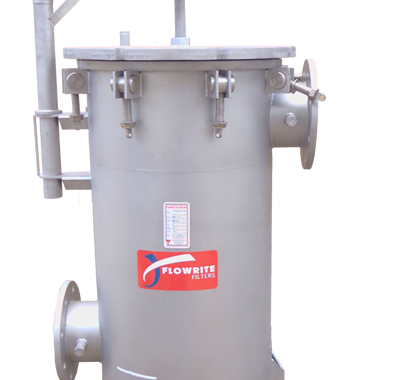 The Flowrite "xFSi2" series bag filter housings utilise modern engineering techniques to provide a robust vessel with a maximum pressure rating of 1000 kPa. Flowrite "FS" series housings are made from durable 304 or 316 stainless steel to ensure years of maintenance-free, reliable service. They are free-standing and are fitted standard with 50mm or 80mm flanged inlet and outlet connections. Other sizes are available on request.
Flowrite "FS" Series bag filter housings are the automatic choice for safe, trouble-free and cost-effective filtration.
Amongst the many features of the "FS" series housings are covers secured by four swing-bolts to allow quick, easy access to the filter bag.
Internally, the filter bag is securely supported by a stainless steel perforated plate basket to provide maximum strength and minimum flow resistance.
Bag-to-housing seal is assured by FSI's proven Polyloc® ring sealing method.
The Polyloc® ring ensures that no bypass occurs during the filtration process. The Flowrite FSI2 housing is a standard double-length vessel (industry standard D/L 32″ filter bags) and is available in multiple bag configurations. From a1-bag up to a 12-round bag housing thereby providing one vessel for the flow rate required for your application.
Features & benefits
All stainless steel
Low maintenance and excellent chemical resistance
Swing Bolt Closure
Quick, no-tools access to the filter cartridges
Drain & gauge ports
Versatile threaded ports for simple multi-tasking
Cover vent port
Easy, safe venting prior to start-up
Versatile filter bags
Many materials and filtration ratings available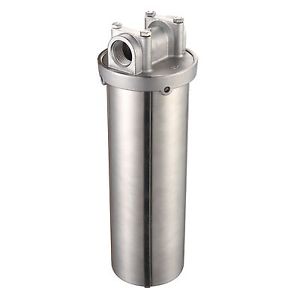 Single Cartridge Housings for Liquids
The single shell design has been a standard in the industry for over 30 years. Available in 316L Stainless Steel the RHS series is perfect for almost any application. The maximum design working pressure is 300psi @ 200ºF.
The RHS series is available in a wide range of connection sizes to fit your application as well as a wide variety of gasket options that make this housing compatible with almost any fluid. The standard gasket material is Buna-N.
Features
Designed for industrial and commercial filtration needs
Heavy duty construction for durability
Offered in several materials
Simple ring closure for quick cartridge change outs
In line fittings for easy installation
Knife edge seal at both cartridge ends to eliminate by-pass
Housings accept double-open-end cartridges
Complete selection of pipe fittings: flanged, sanitary and BSP
Standard with mounting bracket kit
Applications
Flowrite RHS Housing is compatible with a wide range of applications including | Chemical | Ink & Paint | Food & Beverage | Petrochemical | Photographic | Plating | Electronics | Oil & Gas | Pharmaceutical